3 reasons you shouldn't feel bad about dipping your bread in tea
Bread and tea is a common meal for breakfast or dinner.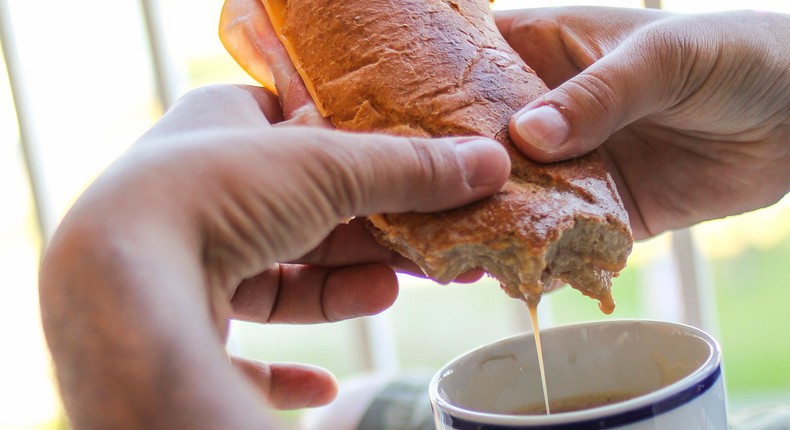 Most people enjoy this combo when they dip or dunk their bread into the tea before eating.
Some even cut chunks of bread and put it into the tea and then use a spoon to scoop and eat it. For others, they prefer to take a bite of the bread and then sip the tea. Oftentimes, it has been said that dipping your bread in tea is bad table manners, childish and should never be done in public if you have to do it at all.
This has led to some people only doing this in private and hiding what they actually enjoy. If you are at this table, here are three reasons you should not feel bad about dipping your bread inside tea.
1) It's done with biscuits and no one complains
Dunking or dipping biscuits into a drink such as tea, coffee, or juice is a generally accepted act to an extent, at least, compared to bread. Very few people would stare when someone in a fancy restaurant dips their biscuits into their drink before eating.
It is even said that dunking releases more flavour from the biscuits or any other baked food by dissolving the sugars while also softening their texture. This act also melts chocolate on biscuits to create a richer flavour.
If this is accepted for biscuits why are we discriminatory against bread? I believe if we all do this more often, it'll be globally accepted.
2) It is actually more enjoyable
There's this happiness that comes with actually doing what you like to do in public without unusual stares. And if you ask someone who dips their bread into tea why they do that, they tell you it is more enjoyable that way with a smile on their faces actually.
So, why should you stop doing what you enjoy just because of some standard set by someone unknown?
3) We also dip our swallow and no one complains
In a country like Nigeria, we grew up dipping our swallows into soups. You won't see anyone swallowing a mould of eba and then sipping their soup or using a spoon to drink it as you do with pepper soup.
Pulse Nigeria
So why can't we do this with bread and tea? Dipping shouldn't be discriminatory and if it is acceptable to swallow, it should also be acceptable for bread.
I hope with these few points you've been convinced that dipping bread into tea should be globally accepted and you do not have to feel bad about it.
JOIN OUR PULSE COMMUNITY!
Recommended articles
5 most sexually satisfied countries in the world - and Nigeria is part of them
Chika Ike stuns in green at Cannes Film Festival
Meet the oldest cover girl of Sports Illustrated magazine
5 world records that are almost impossible to break
Flying Fish treats its 'Fly Geng' to a captivating influencer hangout in Lagos
Who wore it best? Nengi and Tacha dress up like Nicki Minaj
7 Nigerians in Guinness Book of World Records
Satisfy your taste buds this May with Domino's awoof price slash
5 funniest Nigerian records in Guinness Book of World Records
Zikoko organises second edition of Hertitude, a women-only party
'The first 6 hours were the toughest for me' - Hilda Baci speaks on record-breaking feat
5 Guinness World Records that are relatively easy to break
7 Nigerian Sports Stars who hold the Guinness World Record
What a WAG!! Check out the Top 10 most beautiful girlfriends of football players (2023)
Victor Osimhen aiming to break the Ibrahimovic curse