What's Hilda Baci cooking for 4 days to break Guinness World Record?
Hilda Baci plans to cook for 97 hours in four days to become a Guinness world record breaker.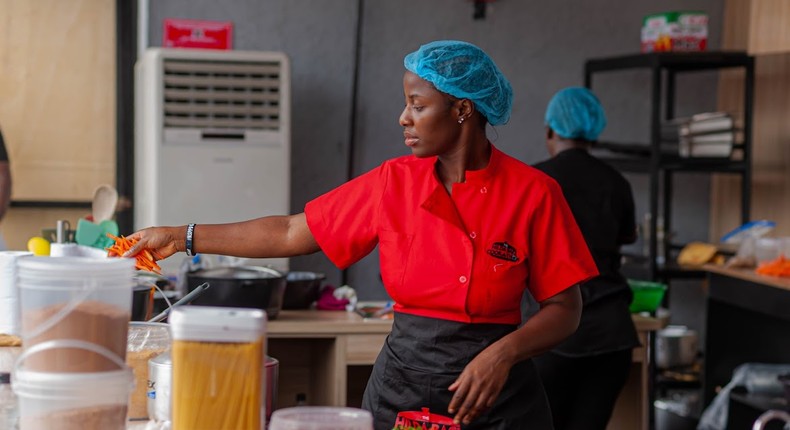 Hilda Baci, a Nigerian chef based in Lagos, is currently cooking to get her name in the Guinness World Records.
The chef is set up at Amore Gardens in Lekki, Lagos, where members of the public are welcome to cheer her on.
Hilda Baci plans to cook a total of 35 sides, soups, cold dishes and sauces, mostly Nigerian cuisine; and invites well-wishers to have a taste of her meals — and record-breaking greatness.
This is a list of meals Hilda Baci will cook for 97 hours to join the list of Nigerians already on the Guinness World Records.
Hilda Baci sides menu
Party jollof
Coconut rice
Native rice
Asun rice
Fried rice
Native pasta
Jollof pasta
Porridge yam
Porridge plantain
Mashed potatoes
White rice soups
Hilda Baci soups menu
Chicken curry
Edika ikong
Egusi
Oha
Afang
Fisherman soup
Nsala
Goatmeat pepper soup
Seafood okra
Ofe akwu
Hilda Baci breakfast/cold dishes menu
Akara
Pancake
Burger
Chicken wraps
Abacha
African breadfruit
Hilda Baci sauces/meats menu
Goatmeat stew
Buka stew
Peppered turkey
Peppered chicken
Fried fish
Peppered fish
Turkey stew
Ofada sauce
JOIN OUR PULSE COMMUNITY!
Recommended articles
5 most sexually satisfied countries in the world - and Nigeria is part of them
Chika Ike stuns in green at Cannes Film Festival
Meet the oldest cover girl of Sports Illustrated magazine
5 world records that are almost impossible to break
Flying Fish treats its 'Fly Geng' to a captivating influencer hangout in Lagos
Who wore it best? Nengi and Tacha dress up like Nicki Minaj
7 Nigerians in Guinness Book of World Records
Satisfy your taste buds this May with Domino's awoof price slash
5 funniest Nigerian records in Guinness Book of World Records
Zikoko organises second edition of Hertitude, a women-only party
'The first 6 hours were the toughest for me' - Hilda Baci speaks on record-breaking feat
5 Guinness World Records that are relatively easy to break
7 Nigerian Sports Stars who hold the Guinness World Record
What a WAG!! Check out the Top 10 most beautiful girlfriends of football players (2023)
Victor Osimhen aiming to break the Ibrahimovic curse