'We are reviewing evidence before announcing Hilda Baci' - Guinness Book of World Records
This morning, Hilda Baci surpassed the previous record for the longest time spent cooking.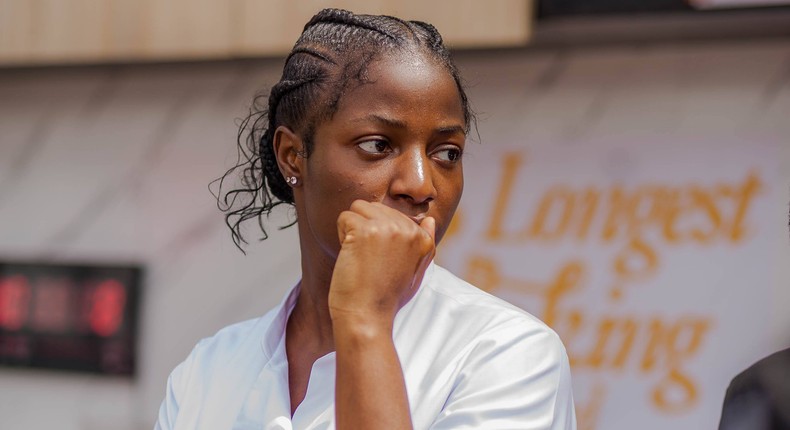 Nigerian chef, Hilda 'Baci' Bassey broke and set a new cooking marathon record this morning.
The previous record was 87 hours and Hilda has been cooking for more than that. In just a few hours, she would set a new record, 96 hours.
In the meantime, a Twitter user asked why she hasn't been announced as the new titleholder on the Guinness Book of World Records social media handles. Their official Twitter handle replied that they are aware of her amazing attempt, but they are reviewing the evidence first.
Perhaps, it is a thing of putting the cart ahead of the horse, she has to be allowed to finish what she has started before an announcement can be made.
The Guinness Book of World Records is big on verifiable world-breaking attempts, we are sure that Hilda fulfilled all their guidelines and will be declared a new record holder.
JOIN OUR PULSE COMMUNITY!
Recommended articles
5 most sexually satisfied countries in the world - and Nigeria is part of them
Chika Ike stuns in green at Cannes Film Festival
Meet the oldest cover girl of Sports Illustrated magazine
5 world records that are almost impossible to break
Flying Fish treats its 'Fly Geng' to a captivating influencer hangout in Lagos
Who wore it best? Nengi and Tacha dress up like Nicki Minaj
7 Nigerians in Guinness Book of World Records
Satisfy your taste buds this May with Domino's awoof price slash
5 funniest Nigerian records in Guinness Book of World Records
Zikoko organises second edition of Hertitude, a women-only party
'The first 6 hours were the toughest for me' - Hilda Baci speaks on record-breaking feat
5 Guinness World Records that are relatively easy to break
7 Nigerian Sports Stars who hold the Guinness World Record
What a WAG!! Check out the Top 10 most beautiful girlfriends of football players (2023)
Victor Osimhen aiming to break the Ibrahimovic curse