Audiomack's Creator app hits 1 million downloads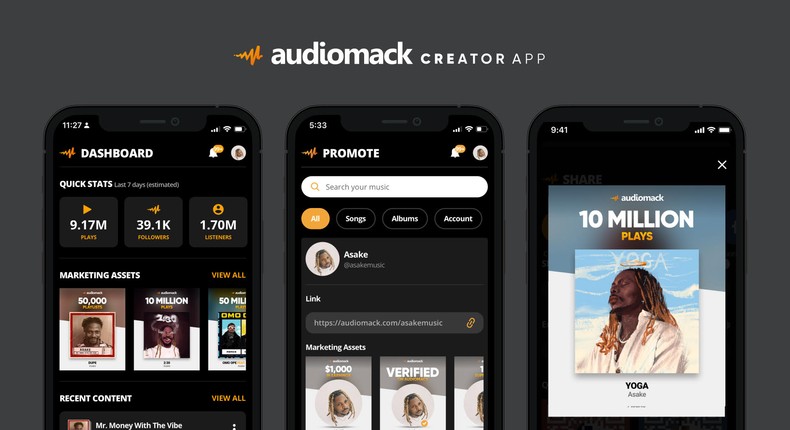 Africa's leading music streaming platform, Audiomack, has announced a significant upgrade to The Creator app.
The latest update features a revolutionary tool called the 'Promote Tab,' which empowers artists with free, user-friendly assets to support their creative journey and enhance music distribution.
This landmark platform aims to empower artists by providing them with the ability to upload music, analyse streaming data, promote content, and receive direct payments.
Initially launched in 2022, the Creator app is part of Audiomack's unwavering commitment to promoting the growth of music distribution and consumption across the continent.
With the introduction of the Promote tab, artists can now receive earned trophies, providing them with a treasury of shareable assets to market their music.
These assets enable artists to attract fans' attention and increase plays for new releases without the need for any design work.
Artists can also easily save, share, and copy links for their releases and profiles, as well as get embed codes.
The Promote tab has received over 187,000 sharing actions since its launch in mid-February, with 53% from copying links and 26% from sharing trophies.
Since its launch, the Creator app by Audiomack has achieved remarkable success with over one million app installations and 1.7 million uploads, thereby ranking as a top 10 iOS music app in Nigeria.
In addition, there has been a significant 31% increase in weekly direct uploads, with a range of 65,000 to 75,000 uploads every week.
As of March 2023, the app has experienced a 65% surge in Creator uploads and a 61% growth in unique uploaders.
Furthermore, about 40% of Creator app users share or upload a song each month, and 86% of users who initiate an upload complete it within seven days.
Speaking on the latest feature of the Creator's app, Charlie Kaplan, Vice President of Product, Audiomack stated, "As technology advances, the needs of our base of young, international artists are constantly evolving.
"With the launch of the Creator app, we aim to empower these artists who increasingly create and store their music on their phones. Our goal is to provide world-class mobile tools to help them build audiences and careers in music."
"The app leverages Audiomack's unique strengths, such as direct upload and unlimited free storage, to support artists throughout all stages of their career lifecycle.
"With its ad-tier playback, in-depth analytics, and no-fee monetisation features, the Creator app is designed to be an all-in-one platform for artists to generate revenue and grow their audience," Charlie added.
Audiomack is dedicated to empowering artists by relieving them of technical concerns and allowing them to focus on creating exceptional music.
With The Creator app, the platform is set to take African music to even greater heights, providing artists with the tools they need to succeed and promoting the growth of music in Africa.
This approach has made Audiomack a dependable partner for artists, assisting them in accomplishing their objectives and sharing their narratives with their fans.
JOIN OUR PULSE COMMUNITY!
Recommended articles
Afrobeats was huge before Drake got on it - Davido
Bad Boy Timz was shot in the eye at age 9 by assasins in Mushin
Wande Coal releases highly anticipated album 'Legend or No Legend'
Davido brings together Chris Brown & Poco Lee for 'Unavailable' challenge
US paparazzi stalk Prince Harry, Meghan in intense 2-hour car chase
'The Real Housewives of Abuja' set to return for reunion
Audiomack's Creator app hits 1 million downloads
1da Banton releases highly anticipated EP '1da Shall Never End'
Apple launches new concert discovery features on Apple Music
7 Nigerian Sports Stars who hold the Guinness World Record
What a WAG!! Check out the Top 10 most beautiful girlfriends of football players (2023)
Victor Osimhen aiming to break the Ibrahimovic curse